Top of page
Zoey is a very cheeky nine-year old girl who loves ABBA, Pig the Pug books and going to school. According to her mum, she has the "most beautiful eyes and longest eyelashes you've ever seen. She loves cuddles and is always happiest when someone curls up with her for a nap." Zoey has a life-limiting condition that means she is unable to sit, use her hands purposefully, talk or eat and she suffers from chronic chest infections and uncontrolled seizures.
Zoey's favourite part of Hummingbird House is probably the pool. Aside from that, it is clear that she loves the attention she gets during her stays, and always being part of whatever is happening at the house. "The staff at Hummingbird House go out of their way to make sure that Zoey is always included in activities – even if all she wants is to stay at the back and watch everyone else."
For mum, Sarah, it's the opportunity to savour the simpler things in life that rates highly when discussing what it means to come to Hummingbird House.
"My favourite part of staying at Hummingbird House is being able to switch off from the never-ending care that Zoey requires and just relax. It means that I can spend time with her as just her mother – not her carer. I can focus on her and not the never-ending laundry list of things to do, such as washing syringes, managing tube feeds and drawing up medications."
In fact, one of those simple things is the luxury of losing yourself in a book. "I will often save a book that I've been looking forward to reading when we have a stay coming up – it is such a luxury to sit in the beautiful Hummingbird House garden and read for an hour without any interruptions!"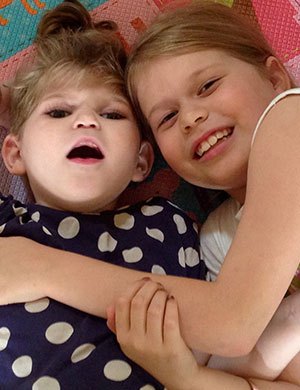 Mealtime at Hummingbird House is also a big favourite of many Hummingbird House families, and Zoey's is no different. "The food is amazing and everyone – all the families and staff at Hummingbird House – sit down together to eat. It is such a warm and friendly time at the House."
Finding a single special memory about the time spent at Hummingbird House is a little challenging for Sarah. "We have a lot of great memories from our stays at Hummingbird House! However, my favourite memories are the special times that Zoey has spent with her sister, Anya. One time, one of the nurses taught Anya how to do beautiful flowers and butterflies with face paint and she painted Zoey's arms and face. During our last stay, Anya and Zoey had a swim in the Hummingbird House pool. They both love the water and spent ages just floating and cuddling. Watching them enjoy the pool together is a beautiful memory that I'll always remember."
Hummingbird House means a lot to Zoey's family for so very many reasons. "It gives us the opportunity to enjoy just being a family and also to have quiet time to ourselves. It gives my husband and me the opportunity to meet and talk to other people who understand what we are going through. Anya is able to meet other siblings, which lets her know that she isn't alone. And Zoey gets a taste of independence since she doesn't have her mum and dad constantly there with her. She even had a stay at Hummingbird House without the rest of the family and she loved it."
"Hummingbird House has such a positive and kind energy that you can't help but feel lifted up and happy when you arrive. Staying at Hummingbird House always makes me feel better and restores my determination to carry on and give Zoey the best quality of life possible."
When asked what matters most to her, Sarah replies, "Making sure that both Zoey and Anya feel loved, included and cherished. We don't know how long we will have with Zoey, but we want that time to be filled with as much joy, humour and affection as possible. Hummingbird House takes the responsibility of caring for Zoey off our shoulders and lets us focus on those things which are most important. And we are so very grateful to them for such a gift."