Top of page
Hummingbird House is a National Disability Insurance Scheme (NDIS) registered provider. This means that families currently receiving our care and support can access a range of our high-quality NDIS services, at Hummingbird House Brisbane, or in their home or community, through their NDIS Plan.
As an NDIS provider, our focus is on providing high quality and consistent care to the families we walk alongside. We achieve this by selecting the right people and providing them specialised training to support children and young people with complex health needs.
Hummingbird House NDIS services are led by a Nurse Practitioner and delivered by a multidisciplinary group of professionals, including a pharmacists, who offer care planning, in-home care and allied heath and creative therapies including physiotherapy, hydrotherapy, occupational therapy, music therapy and art therapy.
We also offer NDIS short break stays at Hummingbird House Brisbane.
Families with NDIS funding can access our services as follows, provided this is planned for and included in their NDIS package:
Support coordination
Early childhood supports
Therapeutic supports
Personal activities (high intensity)
Development-life skills (training for carers in matters related to caring for a person with a disability)
Daily tasks and shared living (short term accommodation)
Community nursing
The table below provides more details about how you can use your NDIS Plan to access care and support at Hummingbird House: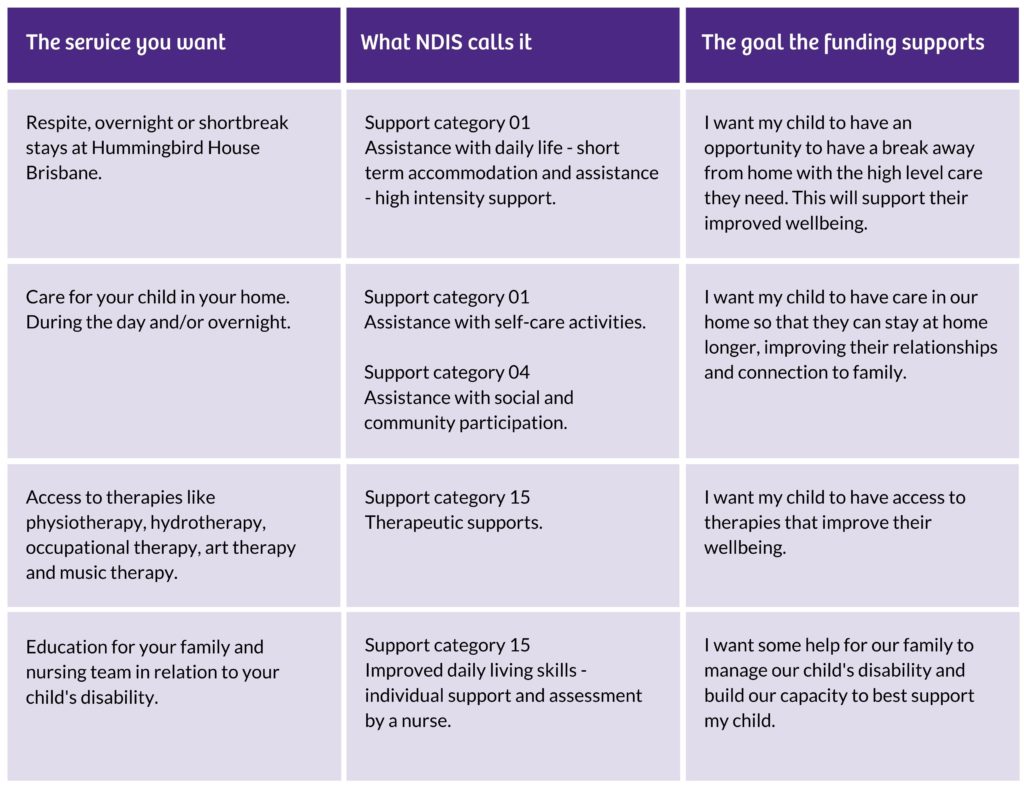 If your child has an NDIS package and is a current guest of Hummingbird House explore what NDIS services are available to you at Hummingbird House Brisbane or in your home and community by contacting our Clinical Care Team on 07 3621 4364 or emailing [email protected].