Top of page
Sophie's story (in loving memory)
Sophie was a beautiful, perfect, bright eyed little girl born to parents Peta and Brett, and big brother Jake in March 2018. As Peta describes it, they had "no idea what would unfold in the coming weeks after her birth. It was a normal pregnancy and birth."
Sophie was not feeding well and had some significant problems in the first few days of her life. She was admitted to the Mater neonatal intensive care unit, where she was diagnosed with a life-limiting condition. Initially it was thought that once Sophie's palliative care started she would only live for a few days.
Peta recalls that at the time of her diagnosis, "we didn't know what we needed or what would help we were utterly lost. Where would we go for help?" It was suggested they consider Hummingbird House.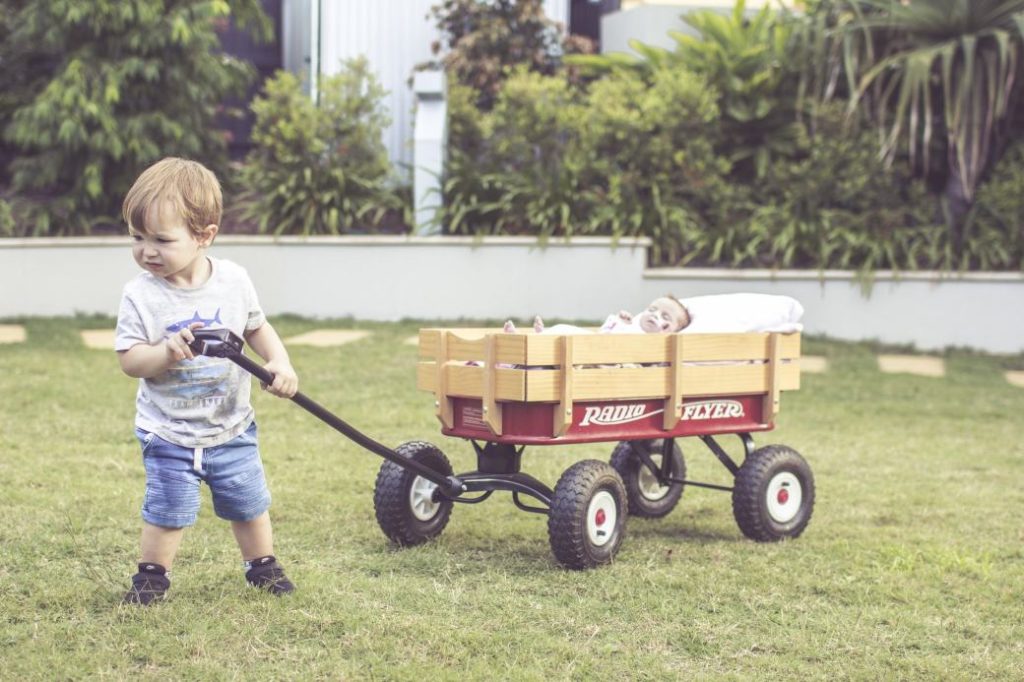 "Jake could be a regular 18 month old… and still be with his sister. He became her brother at Hummingbird House"

"When we were told that it was a hospice, we were very hesitant. We didn't think it was the right fit for us." The nurses and social worker insisted that Peta and Brett drive to Hummingbird House.
"It's fair to say we were blown away by the facility. The warmth and comfort shown by Andrea was evident right from the front door. The team understood and listened. Visiting made us realise that Hummingbird House was not what we thought.
Peta and Brett took Sophie home to create memories, meet the family dog Nellie, and watch Jake play. However, one night at home Peta remembers that "we were in despair because she was in discomfort, to hear your baby cry is heartbreaking at any time but to hear your baby crying when you know they are dying is unbearable. We couldn't get on top of her discomfort. We never forgot Hummingbird House, so we called them. They answered my call and admitted Sophie urgently. It was such a relief to have professionals there to make the medical decision to make her comfortable and take the pressure off us. We soon realised what we needed was Hummingbird House and because of that initial visit we knew we were welcome."
On Sophie's first day at Hummingbird House, Jake and her Nannie came to stay in the family accommodation suite, allowing Sophie's extended family to also spend time with her.
"That first day we did some hand and footprint art together. We created a family memory that wasn't in the hospital. Jake could be a regular 18 month old – he didn't need to be quiet and clean. This was the first time he could be who he wanted to be, and still be with his sister. He became her brother at Hummingbird House".
When talking about her beautiful baby girl, Peta's voice is filled with emotion. "Sophie put us in touch with so many beautiful people and gave us so many experiences over the 11 days we were there. We were so grateful to her for that. We just didn't want it to end. But it had to. She gave us 11 days when we thought we would only have a couple."
Peta's favourite memory was being able to connect with Sophie in a very simple way. "Every afternoon we went up to the rooftop terrace to watch the sunset as a family. That is what we do now to connect with her. We watch as many sunsets as we can. We climb into Jake's fort and we say hello to Sophie."
When asked what matter most, Peta answers immediately. "It's simple, making memories and spending quality time together as a family. Making the most of the limited time that you have"
It also matters most to Peta that everyone knows that "Hummingbird House is not a place that you ever want to need or rely on, but when you find yourself in that position, you're so grateful it is there. Sophie's little life would have been so different without Hummingbird House. We would have missed out on so many memories. It is a much needed and appreciated service."