Top of page
Rory's story (in loving memory)
Rory is a bright, happy boy who had a stroke when he was in the womb. This, coupled with some infections, means that his brain has been badly effected. He has seizures and other very complex health problems.
Kaitlin speaks with much love about her happy, smiley boy who just loves coming to Hummingbird House, because it is a place where he 'feels safe and has fun'.
"I think the word palliative is thrown around too much. It's always associated with death. Our main priority and that of Hummingbird House is about life, and helping us, Rory's family, to give him the best life we can."
Being at Hummingbird House means that Kaitlin can just be mum.
"I don't have to be nurse, carer, chemist, physio. I can just be mum, cuddle him and sit down and just be. Being Rory's mum is so important to me. It also means my touch is not a clinical one, it's a mother's touch."
Kaitlin's favourite moments at Hummingbird House are every moment. "I'm overwhelmed with love as soon as I walk through the door. Everyone holds you in a cradle of love and safety. Whatever you feel or say, the team there just say 'it's ok. You're not crazy'. I can watch all the little ones interact. Being at Hummingbird House shows Rory's family that there are other kids like Rory. "We are not alone. I can also wander around barefoot, because I'm at home."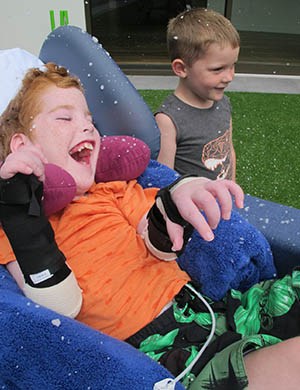 "Kaitlin says that Rory loves being at Hummingbird House, so he can "flirt with the nurses". "Rory feels safe. I know he does. He doesn't have to follow anyone else's routines. He also loves the chickens that are there."
To Kaitlin and Rory, Hummingbird House is a place of safety, a place where they are held in a "cradle of love" by the team, where families can just be, and not have to worry about the grief that they live everyday.
"People understand you, what it is like to live our lives. I love how they say 'you're ok, this is all normal. Here hold a chicken!'"