Top of page
Madelyn's story (in loving memory)
Madelyn was a cheeky 8 year old girl with the best personality. She was basically non-verbal with a few words and some key signs, but had a talent for getting her message across in her own way. All with the most infectious smile and giggle.
Madelyn brought immense joy to her mum Melissa, dad Marcus, siblings Samuel, Lachlan, Riley, Keira, Alexander, Mason, Benson and Ashlynn and all who know her through her laughter, uncomplicated love and rich glimpses into a different reality. "She did, and always will, dance to the beat of her own drum", says Melissa.
Maddy's quirks taught her family to re-evaluate what was important in life. "She got joy out of the simple things in life that were often overlooked or taken for granted, like the sound of sticky tape ripping from the roll. She loved the copyright ad song that comes on before a movie starts and she used to crack up laughing as she watched her daddy dance along to it. Something so simple, yet it brought so much joy to her life. Without Madelyn, we would have never thought that a 20 second copyright ad could illicit years of continuous laughter and squeals of delight, but she showed us that it is possible and made believers out of us."
Madelyn had numerous diagnoses and very complex care needs. Although she was not born with them, her main conditions were spastic quadriplegia cerebral palsy and epilepsy with suspected autoimmune encephalitis. Spastic quadriplegia cerebral palsy meant that she had limited use of her limbs and trunk. "Although her left arm was a weapon!" laughs Melissa.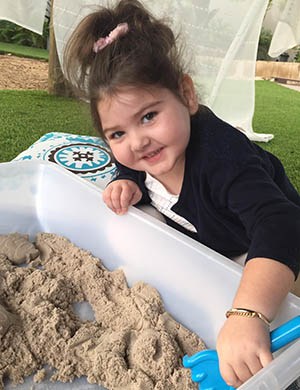 "Over her 8 years, the more we got to know Madelyn the more we realised how little about life we actually knew. Maddy taught us patience, unconditional love, forgiveness, joy, sorrow and acceptance. Maddy was filled with a kind of wisdom that cannot be gathered from textbooks or fancy degrees, but which could be found in a child who looked at the world through unfiltered lenses, whose spirit was not diluted by materialistic matters or ego – she was an inspiration."
For Melissa, coming to Hummingbird House meant an opportunity to disconnect from being a carer, and just be mum. "When you have a sick child at home, it is really difficult to try to find a good family balance, especially as you try to limit the impact of your child's conditions on the rest of the family. However, coming to Hummingbird House was like a home away from home, where we are able to reconnect as a family without Madelyn's conditions being the main focus. We could be a family without feeling like we were constantly in a hospital setting."
"Hummingbird House gave us the opportunity to interact with her as her mummy and daddy which we didn't get in any other environment, because we were carers 24/7 and that was so time consuming that we often missed out on the fun stuff that parents of 'typical' children could do on a regular basis."
Hummingbird House also offered Melissa and Marcus a chance to rediscover small things that could easily be taken for granted. "Every single moment we shared at Hummingbird House was special. Maddy was able to have a bath with her little brother – and not in just a regular bath – but this fancy bath, with spa jets, lights and music. The look on their faces as they splashed in the water with the colour changing lights, giggling and moving to the beats of Michael Jackson, is a memory that will stay with us forever. For the first time in a very long time, Madelyn and Mason were able to enjoy something that most young siblings do together but had been impossible for us up until that moment. Sometimes it's the small things that end up being the big things!"
"We have learnt that Hospice doesn't just mean end of life care; it's about supporting families and quality of life. During our first tour on an open day we immediately fell in love with the warm, happy, bright place, where everything has been done to maximise the sense of enjoying and celebrating life. For our first stay, we were welcomed like old friends and cared for as a whole family like we were their family. If you want your faith in humanity restored, and if you want to see how families who often carry an unbearable load of responsibility are supported, then go to Hummingbird House."
And for families facing the anxiety of approaching a service like Hummingbird House, Melissa offers some heartfelt reassurance. "If you are a family who, like us, were scared or have reservations about going to Hummingbird House, then we would say take it one step at a time, but go. Embrace what they have to offer because they will welcome you with open arms and be there with you and your family every step of the way."
"Even before we had our first stay there we regularly had the staff ring us to check in and see how Maddy was doing and how the family was. There was never any pressure from them and they let us guide the way. These beautiful souls on the other end of the phone would often become our shoulder to lean on and vent to because some days were really hard, and they just "got it". They are an extra layer of support, and will become an invaluable asset to your family. Hummingbird House will forever be a part of our family and hold a place close to our hearts."