Top of page
Florence is a beautiful baby girl who is always happy and full of wonderment. She is Leo's little sister and the daughter of Ellie and Brett who live in Gladstone.
Florence was born with a rare neurological disorder which paralyses all the muscles surrounding her mouth and throat, and arthrogryposis, which means every joint in her body is contracted.
There's a very high chance that Florence will never be able to breathe on her own, eat food, talk or walk. But she is growing and meeting her own milestones in her own way. She is really social, loves being around people, and of course getting attention.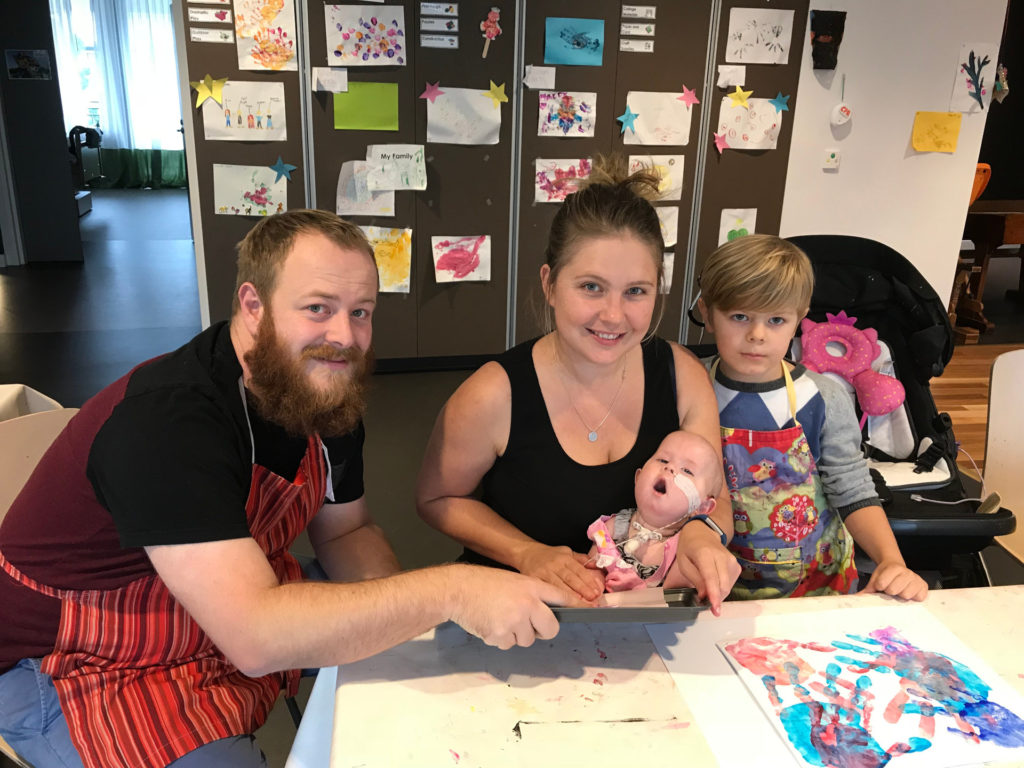 "This was really special. We got to take the beautiful prints home and we will be able to have that with us forever."
Florence's mum, Ellie feels that the hardest part about Florence's condition is "not knowing how long she will be with us. We've had to learn to enjoy the moments and days that are gifted to us."
Staying at Hummingbird House is a chance to spend time enjoying each other's company without the everyday pressures and stress that can often overwhelm their lives. "The best way to describe Florence's care is endless! Brett and I often find ourselves acting as nurses and carers before parents, and the things that most families take for granted, movie nights on the couch, last minute outings to the park or beach, date nights, feel like a thing of the past for us."
Because the family lives regionally, sadly in-home care and support is not readily available. "This can often feel very isolating. Hummingbird House is the only place we can go for a break and time out, all together as a family."
Stays at Hummingbird House offer an opportunity for ordinary things to be taken care of.
"For me I love the meal times. It's because we all sit together with everyone from the house and it has a very community feel. I have met some of the most resilient and inspiring parents and carers I've ever come across in that dining room, which is great for us as we are very new to the special needs journey.
Florence loves coming to Hummingbird House. "Florence loves the attention she gets from the beautiful staff. They're more than just carers that see to her physical needs. There is a real sense of joy and love in the care they provide. When you have a child with complex medical needs it is rare to come across people who are able to see past the condition to the little human being behind it that has all the same needs as other children: care, love, attention, play."
Hummingbird House is more than just a place for Florence. Leo looks forward to spending time with Florence too. "Leo also gets a lot of attention from staff who are great at making him feel like the amazing big brother he is."
Short break stays at Hummingbird House provide a chance for Florence and her family to reconnect over activities that are "nothing big or fancy". "It is more about just enjoying each other's company in a relaxed atmosphere and having some of our load shared. This sounds like a simple thing but I can't emphasise how special this time is for our family".
Ellie recalls that during a recent stay, the family made artwork using their hand prints. "This was really special. We got to take the beautiful prints home and we will be able to have that with us forever."
Ellie finds it hard to explain just what it means to have Hummingbird House there to support her family. "The best way I can describe it is that it's like a metaphorical warm hug that says 'we are here with you on this journey and we get it. The situation you're in really sucks but there's also a lot of joy to be found and precious moments to cherish. We're here to help you with that".